Yamaha RX-V367 3D Capable AV Receiver
Behold, an entry level 3D capable AV reciever from the people at Yamaha! Availabe in silver (ouch!), titanium or black, the RX-V367 is a resonable sized and fairly good-looking hunk of metal that should blend in comfortable with the rest of your AV gear – as long as you pick the correct matching colour of course.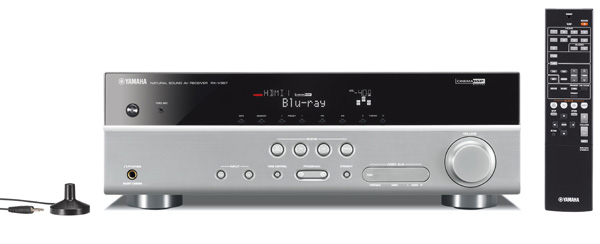 On the front of the receiver you'll find the usual array of knobs, buttons and sockets – in fact, quite a few knobs, buttons and sockets for the size of the unit. There's also a nice display panel which is nice and easy to read unless you have a massive living room of course. Some of these controls include the input selection switches, tone controls, a pass-through selector and four 'Scene' buttons – macro command buttons to you and me. You also get composite video and analogue stereo inputs, a headphone jack and a minijack input for plugging in any third party audio devices.
On the back, is where the connectivity fun begins of course. Here you'll find a good selection of v1.4 HDMI inputs – four to be precise – and an HDMI output, two component input sets and three composite input sets. Audio-wise, there are three analogue input pairs, two outputs, two optical and two co-ax digital inputs, and a subwoofer pre-out. The speaker connectors are, of coruse, also present being a mixture of proper binding post terminals and less-than ideal (and somewhat budget) spring-clip connectors. These are, we guess, a relfection of the price but if you have some serious or bi-wired cabling, you'd better check that these connectors will be adequate. Mind you, if you fit in to that category, you'll probably be aiming a little higher than this reciever anyway, maybe Yamaha's own RX-V467 for example.

For a receiver boasting all these juicy HDMI connectors, it might seem strange that this seemingly geared-up-for-it piece of kit is incapable of decoding HD audio streams. To listen to HD audio, you'll have to let your Blu-ray player do the decoding work and then pipe it's PCM output in to the Rx-V367 for the desired outcome. This is not ideal but shouldn't be too much of a problem if your Blu-ray player can do the necessary – worth checking before plump for this receiver. Dolby Digital, DTS and Dolby Pro Logic II are all handled natively thank goodness.
Once your audio is in the RX-V367, the receiver has many processing options – 17 DSP programs in fact where you can simulate cavernous venues or have the sound tweaked to suit the content, such as sport or drama. There are also two modes to help you get the best sound from your attached MP3 player and to your headphones.
You can tweak the living daylights out of the receiver to suit your preferences and living space but you can also rely on an automated set-up. Like soundbars and many other receivers, the RX-V367 uses a connected up microphone to automatically adjust itslef based on the acoustics of your room. This generally works really well which is handy if you're not too confident or happy about fiddling with the settings yourself. Of course, once it's had a go itself, you can always carry out some fine-tuning if your tastes differ from those of your electronic friend.
Once set-up, operations are just as intuitive and simple. The only visual feedback is provided by the front panel display, but this is really all you need – unless you are sitting a considerable distance from the unit. The remote control is also sensibly laid out and uncluttered meaning you shouldn't need a more fancy, third-party remote to do the dirty work for you.
For the price, this piece of kit is a winner. The soundstage, clarity, depth and sheer power are remarkable for something so 'cheap'. As always, this is single cog in a bigger wheel so the quality of your source and your speakers will have an impact, but becauase this unit is relatively inexpensive, please don't think you can partner it with budget speakers as you would be robbing yourself of a fantastically immersive experience. This also carries over to audio and depending on how far you sit up the audiophile scale, you could truly get away with using this receiver as your main amp – as long as you shorten that circuitry and stick the pass-through on.
At this price, the RX-V367 is one to check out. As long as your Blu-ray player can do all the necessary HD audio decoding, then this AV receiver covers the reat of the bases. Check it out.