Yamaha YSP-4100 Soundbar with 3D Support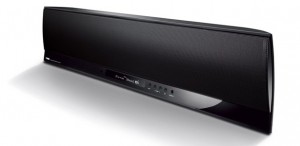 From the the dawn of Soundbar history, Yamaha have lead the pack when it comes to producing digital Sound Projectors (soundbars) creating the only Sound Bar that has true 5.1 sound output.
To further strengthen and retain their number one spot, Yamaha have introduced the YSP-4100, a 7.1 'Digital Sound Projector' – Yamaha have decided not to call this a Soundbar as normal! – that has some great and innovative new features including such things as HD Decoding, 1080p compatible HDMI (4in/1Out), IntelliBeam, several listening modes, UniVolume and AirWired technology to make use of an iPod/iPhone and Subwoofer. What's more, the 7.03 firmware adds 3D pass-through and audio return channel support. Booyacka!
To ensure that you always get the best possible sound from your shiny new Blu-ray palyer and your other digital sources, the YSP-4100 is capable of decoding Dolby TrueHD and DTS-HD master Audio as well as the older Dolby digital plus and DTS HD High resolution audio systems.
With the Yamaha YSP-4100 you can achieve true surround sound by directing and bouncing sound beams off the walls of your listening room to come at your listening postion from various angles. The main mode is 5 Beam Plus2 for 7-channel sources but in addition to these there are a wide variety of other listening modes for you to choose the one that bets suits your source material, room shape and listening position.
The YSP-4100 is both stylish and slim, around 9cm deep by 103cm wide, yet it still manages to cram in both DSP speakers and an amplifier. The speakers comprise of a whopping 40 beam driver and two woofers. No other ancillary equipment is required – the receiver, amplifier and speakers are all contained in this nice little package meaning less space is required for your surround sound set-up.
The YSP-4100 is designed to sit under flat screen TVs of 40″-42″ and a wall mounting bracket is available – the SPM-K30. For larger screens of 50″, the YSP-4100 has a bigger and even more expensive brother in the YSP-5100, designed to complement the bigger sized screen.
Product Features
Beam Drivers

4cm x 40 beam drivers

Woofers

11cm x 2 woofers

Digital Amplifier

120 W total power: 2W x 40 beam drivers + 20W x 2 (woofer)

IntelliBeam

Yes

On-Screen Display

Yes

On-Screen Display Languages

En/Fr/Ge/Sp/It/Du/Ru

Listening Mode

5 BeamPlus2

Yes

Stereo + 3 BeamPlus2

Yes

Stereo + 3 Beam

Yes

5 Beam

Yes

3 Beam

Yes

Stereo

Yes

CINEMA DSP

Movie

three Movie

Music

three Music

Entertainment

five Entertainment

HDMI Interface

4 In/1 Out (1080p)

FM Tuner Built-in

Yes

iPod Compatibility via Wireless Transmitter

Yes

Wireless Subwoofer Compatibility

Yes

UniVolume

Yes

Compressed Music Enhancer

Yes

Optional Wall Hanging Bracket

SPM-K30

Power Consumption

55W

Standby Power Consumption

0.5 W

Dimensions (W x H x D)

1030 x 212 x 90 mm

Weight

10 kg