Panasonic Viera TX-P42VT20B 3D HD TV Review
What do we have here then? Well, it's Panasonic's stab at a more 'entry-level' (in comparison!), consumer driven 42″ plasma full HD 3D television – 3D HD for the masses! This has come as a slight u-turn as Panasonic were only initially planning on produing it's 3D HD plasma tellies in largeer screen formats, such as 50″ and 60″ screens. Of course, this is good news for us normal folk who don't have the room or can't afford a 3D behemoth in our lounges as we can take advantage of Panasonic's excellent plasma technology in a more affordable package. The icing on the cake is the inclusion of both Freeview and Freesat HD tuners. The slight downer, this is an active shutter based 3D experience so, as usual, if you have a large family, you'll need a large wallet for all those pairs of Panasonic glasses. Two pairs are supplied out of the box.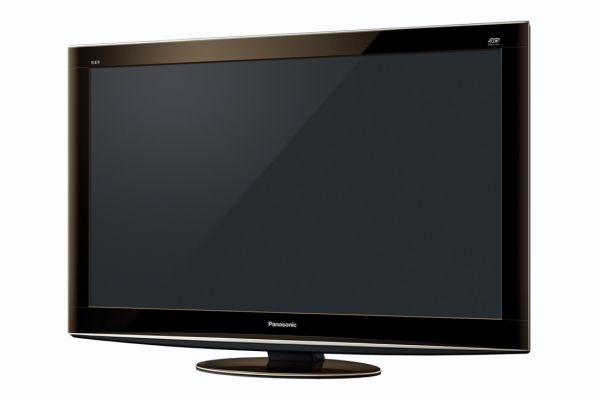 Moving on to the TV's appearance and Panasonic have produced a nice-to-look-at kind of product, if you like a more traditional style of electronic goods, albeit with a hint of brown in the colour scheme. Around the back of the TX-P42VT20B you'll find a plethora of ports and connections starting with 4 v1.4 HDMI ports, moving via the standard audio and video phonos and moving on to the multimedia orientated Ethernet, SD slot and pair of USB connectors.
The ports themselves perform familiar functions with the Ethernet port supporting DNLA devices as well as Panasonic's proprietry Viera Cast service. The USB and SD slots will play a variety of music, video and photo content on the insertion of suitably filled devices. Another great feature is the ability to use USB storage to record from the television on to although this will only work with certain Buffalo products such as the HD-EU2-UK – an exclusivity arrangement taken too far?
On to the picture and sound and as we mentioned at the top, this TV uses a full HD 42″ plasma panel. It also has 600Hz sub-field processing, uses Panasonic's NeoDPD technology for improving the brightness and contrast, and Intelligent Frame Creation technology for reducing screen judder. The TX-P42VT20B also has endorsement from both THX and the Image Science Foundation, both of which have put their names and expertise in creating a few picture pre-sets. On to the sound, which is generally OK for a flat screen, making use of a 2.1 speaker configuration which knocks out around 30W of aural power.
The TX-P42VT20B produces some excellent images in both SD and HD thanks, in part, to it's excellent plasma panel which handles blacks and dark scenes as only a plasma can. HD images are also still nice and crisp in fast-paced scenes, again thanks to the power of plasma which doesn't suffer from motion blur as much as it's LCD cousin.
On to the 3D performance and again the TX-P42VT20B holds up well. The plasma technology saves the day yet again as 3D crosstalk ghosting is much reduced compared to that on a lot of LCD panels. The only real issue is again plasma related as pictures just aren't as bright as those on an LCD screen which can lead to some lost detail in some 3D scenes where there is a lot of shadowing. You can slightly compensate for this though by just turning the lights off while watching!
Overall, this is very good stab at a 3DHD TV and should be on your shorlist when hitting the viewing rooms. Hopefully the price will quickly come down too making it even more desirable.

Check out the full specification at the Panasonic web site here.