Samsung UE65C8000 3D HD TV Review
For those of you with a big lounge and deep pockets, we have the Samsung UE65C8000 – a giant amongst TVs. This 65″ beauty is one of the largest LCD 3DHD TVs money can buy and is definitely encroaching on the size of panel normally reserved for its plasma based cousins.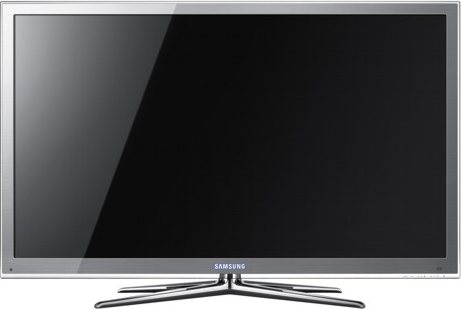 Being a Samsung, the LCD technology in use here is LED edge lighting and becuase of this, the television is incredibly svelte,  coming in at a mere 30mm thick! The slenderness of the panel is further enhanced by the rest of its good looks with a beautiful brushed metallic bezel and transparent edging. Nice. This sort of styling put's Panasonic to shame but is even more required when you've got such a large focal point in your living space. As is the trend, this 3D TV uses Active Shutter glasses to do it's 3D magic.
The UE65C8000 comes with a built-in Freeview HD tuner which leads us nicely to some of the excellent multimedia features the set has to offer. Aside from the excellent Internet@TV service which puts Samsung far ahead of a lot of its rivals, there is an Ethernet port to handle all the DNLA goodness and a couple of USB ports which can have media-filled devices stuffed in to them for playback of a variety of audio and video formats. Another great feature is the ability of the UE65C8000 to record straight from its HD Freeview tuner on to an attached USB hard disk device. What's more, unlike Panasonic, Samsung supports a lot more devices than just those made by Buffalo. Other ports and connections on offer include 4 v1.4 HDMI ports, video composites, digital audio, and a PC DSub connection.
The UE65C8000′s image qualities are kicked off by Samsung's Motion Plus image processing technology. This controls the reduction of both picture judder and blur and is highly configurable adding some extra fine tweaking on to the three preset modes. This fine tweaking is also carries over in to the control of gamma, colour balance and white balance putting it up there with the likes of Sony for having an excellent degree of picture customisation. Other processing abilities include the ability to control the edge lighting effects and also a 2D to 3D 'upscaler' which, to be honest, is a bit gimmicky and you'll probably never use it!
As with most edge lit LCD screens, especially those from Samsung, the SD and HD pictures are remarkably clean, crisp, detailed  and vibrant with the full colour gamut being beautifully represented. This holds true even in fast-paced scenes, as long as your tinkering with the Motion Plus settings hasn't been too detrimental. For a large screen, the SD upscaling is pretty good with not too much noise present. Just don't sit too close to the screen when watching.
On to 3D useage and maybe unsurpisingly, the Samsung suffers from considerable crosstalk ghosting when presented with a 3D source. This is, of course, a common problem with the current crop of LCD TVs. While the qualities of the 2D pictures such as the detail and brightness are certainly carries over in to the 3D realm, the ghosting can be distracting compared to that of a plasma, but the detail in dark scenes is handled very well and the images are just so colourful!
So, as with so many 3DHD TVs, this one makes an excellent 2D TV and can also do 3D……er…, I guess what we're saying is, again, it's not the best at 3D, but at present, is there such a thing? If you want an excellent, huge but reasonably priced, stunning HD TV, this could be it, and if you need 3D now it ticks that box too. Check it out. That's all we can say.