Philips BDP7500B2 3D Blu-ray Player Review
The Philips BDP7500B2 (or BDP7500S2 with the B and S relating to Black and Silver respectively) marks the second iteration of the 7500 Blu-ray player from Philips with this new model now supporting the all-important 3D playback.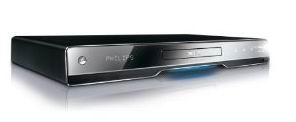 The BDP7500 keeps the same exterior looks as its predecessor. The glimmering fascia encompasses touch sensitive controls, a slide cover for the USB port and a glimmering blue light to let you know when it's doing its thing. Around the back, at the business end, all the usual ports and sockets are present and correct from 7.1 audio out, v1.4 HDMI port, video out to a LAN and USB  port for inserting a wireless dongle if preferred – not supplied unfortunately.

Philips makes use of this network connectivity by supporting DLNA, Blu-ray Live and Philips' own 'Net TV'. Thanks to an integrated 1Gb of memory for such content, you won't have to have a USB stick jutting out of the front of the player. In fact, best save this slot for plugging in your DivX or picture-stuffed USB sticks for instant media playback.
On inserting a disc, the BDP7500 is pretty quick to fire it up, taking around 40s, depending on the disc in question. Once in and up and running, both the remote control and on-screen menus and displays are all logically thought out and easy to navigate and use.
As for the most important aspect of the player, the picture quality, you're sure to be impressed with both 2D and 3D films being showed off. 2D pictures benefit from Philips' CinemaPerfect HD processing engine and this really does do justice to your Blu-ray movies. Standard DVD upscaling is good and the player deals with the sound just as well as with the pictures.
In 3D, the pictures are also excellent with good clarity and minimal ghosting. This will, of course, vary slightly depending on your TV set, but if you can get this player demoed with your TV, we think you'll be in for an absorbing 3D experience!